Currently sitting in my tent...
Another uneventful day of cloudy and rainy hiking. It's starting to wear on me but I will hold up. I headed out of the shelter this morning back into the slop. I kept my feet dry for as long as I could by dancing along rocks and roots to avoid the mud and water on the trail. Eventually I was warmed up enough to plunge in, a task made easier because I had on my higher socks today. A medium-difficulty climb up Bemis Mountain put me at my resting point, Bemis Mountain lean-to. I aired out my feet and made my peanut butter tortilla, a complicated family recipe, while I read the shelter register. I wrote my entry and was back on the trail. Not much else to say about the hike other than I saw the SUN today, which put me in temporarily high spirits until it went back behind the clouds. On top of Old Blue Mountain, I shouted "You're my boy Blue," an Old School reference that no one was around to appreciate.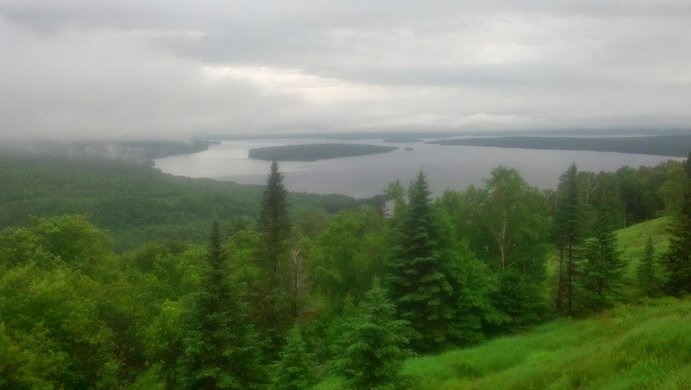 On my way down the mountain to the campsite, I met a fellow sobo named Puck. He carries a hockey stick as a sort of hiking staff. He seemed pretty cool, and I'll probably be leapfrogging him as I go in to Andover. At the bottom of the mountain I met Turducken and Sprout, who had just (and I mean just) parted ways with their canine hiking companion Huxley. They thought he'd have a hard time in the White Mountains up ahead, so he went to stay with Sprout's parents. I was selfishly disappointed to have missed out on a second day of dog-in-the-camp. Alas. But the two humans are quite nice, out here from the Bay Area! We got a little bit of sun at the end of the day to partially dry our clothes and now it's off to bed. A steep climb awaits us in the morning, but fresh legs are always ready for such challenges.