Currently sitting in the hut "library"...
I woke up this morning to the smell of coffee, pancakes, and oatmeal. My eyes snapped open, and my pack was packed up and out of the way in about 7 minutes. I sat and drank a couple glorious cups of coffee with my new thru-hiker friends and chatted about what the next few days had in store for each of us. Blue Moon gave me the address to his very popular thru-hike blog. After the guests ate and the Croo performed some ridiculous skit, we helped ourselves to mounds of pancakes and oatmeal. Syrup was everywhere. It was madness. Being a seasoned nobo, Blue Moon took first prize in volume consumed and in creativity; he put apple juice in his oatmeal. "Watch my plate, I'm not done eating," he warned as he walked over to talk to another inquisitive fan. By the time we swept the floors and were ready to leave, it was almost 9:30. Megan, a Croo member, gave me a note to pass to a Croo member at another hut, making me a courier for the day. The day before, I had confessed that Weird Al songs are perpetually stuck in my head as I hike. As a remedy, Megan wrote out a poem called "Wanderlust", but I don't know who wrote it! I recommend giving it a read though. Thanks Megan!!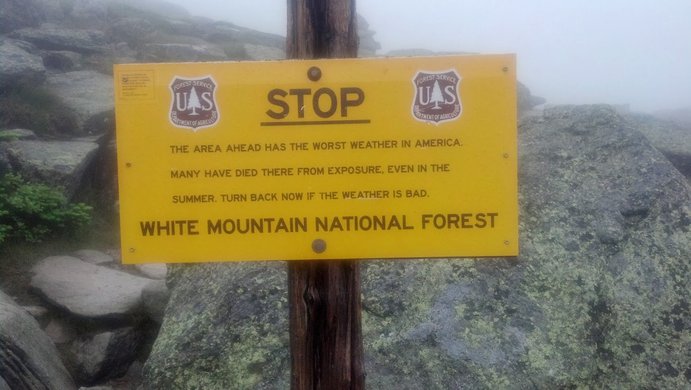 Because Madison Springs Hut is located so high up on a ridge, I started my hike in a cloud. It was warm but gusty and humid (as clouds are prone to be) as I made my six-mile journey to Mount Washington. Through the Whites, the AT mercifully skirts around the summits of many of the mountains, making today's hike pretty smooth. I was still walking on rocks, but at least I avoided the nasty-looking, pointy summit of Adams. The wind steadily picked up until I had to work pretty hard to keep my pack from spinning me around. As usual around here, I met a ton of day hikers, stopping to talk to some and just saying hi to others once I had done enough talking. Near the summit of Washington sits a cog railway that runs to Bretton Woods, 3 miles away. I could hear it through the fog but couldn't see it, so I quickened my pace to catch a glimpse. To my dismay, it passed by without me being able to make out much more than a rectangular shape in the mist. I crossed the tracks and sullenly continued on the trail, when I heard a second train closely following the first. I was elated; I would be able to perform a sacred AT ritual after all. I waved happily to the train, turned around, and shot the moon, giggling like a schoolgirl. I began preparing my induction speech into the thru-hiker hall of fame. Just a short distance onward, I got a day hiker to snap my photo next to the summit sign, since views aren't great in a cloud. Mount Washington is the second-highest peak on the AT, but it has a road to the top where a snack bar and gift shop mark the highest point in New England. Don't get me wrong, I enjoyed my pizza and soup on this cold and blustery day, but it sure was odd to climb up to a summit and be greeted by a middle-aged man in jean shorts.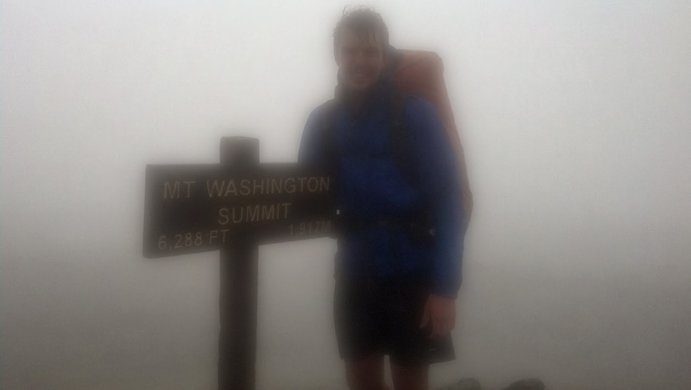 I managed to locate the trail down the mountain and I headed the short distance to Lakes of the Clouds Hut to deliver my message to the Croo member. Another guy working there convinced me not to push miles but to stop at Mizpah Hut for the night. I couldn't argue with his logic...walk less miles and eat free food? I think I'll still be on schedule to get in to Lincoln and go to the movies, so no harm was done. However, the miles today were pretty smooth so I can't say I'm very beat. Plus I'm going to stuff myself for the third time today. Didn't someone say something about the Whites being hard?
I was the only thru-hiker to stop in tonight. Mizpah's Croo seems a little different than the other two, more like high-schoolers. They all socialized with each other but wouldn't really give me a moment. Also, they forgot I was there so I had to remind them to feed me. But who am I to complain? The work-for-stay program is a godsend and I thank the AMC for the services they provide. The two other huts were nothing short of awesome.