Currently sitting in the Lakeshore House common area...
My name is Rooster. Just before I went to bed last night, Smooth came up to my tent and told me the news. Apparently "Early" morphed during the campfire conversation. Now I have to live up to my reputation as an early riser. Everyone was up early this morning. The Sobros were in Monson by 6 am, eager for all-you-can-eat breakfast. Doc, Mulligan, and I hiked the three miles to the road. We put our packs down, took off any hats and glasses we had, smiled, and put our thumbs out for a three-mile hitch to Monson. Someone headed in the other direction pulled up and took us to Greenville, a larger nearby town, before bringing us back to Monson. It worked great, and we bought groceries for our resupply in the well-stocked grocery store. Also, Mulligan and I bought Crocs for camp shoes. I really hate to say it but I love them and have no regrets.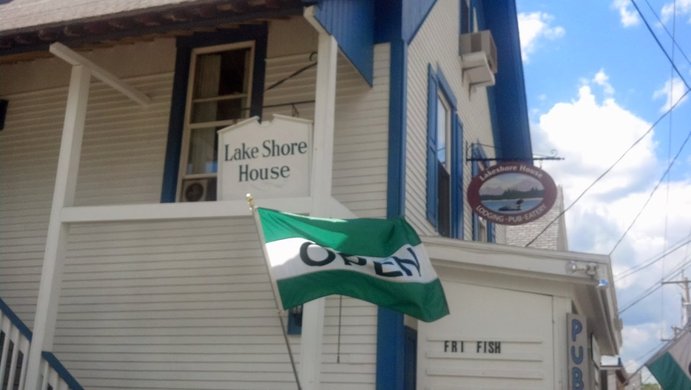 In Monson, we got to our hostel, Lake Shore House, at 9 am. For 25 bucks, I got a bunk and all the hospitality in the world. Rebekah treats guests like family, and the shower felt AWESOME. We put on some borrowed town clothes (see the picture of Mulligan) and went to the gas station, where I bought pizza and coke for second breakfast. After laundry and hanging out, a few of us went to a great barbecue place, where I had an ice cream cookie sandwich, a grilled cheese, and thai noodles. So not barbecue at all, but it was good. Got some more phone calls done, then I had dinner and a couple drinks at the pub downstairs. A few people are staying in town tomorrow, but I'm headed back to the trail. Feeling good, so it's time to roll on after this restorative day. It's sad to say goodbye to these good friends from the wilderness, but I'm sure I'll see them again. And I've got to hike my own hike.