5:02 AM: Hessie Trailhead
I got to the trailhead even faster than I thought. Apparently there's regular-hour travel time (sharing the road with tourists and easy-going locals, waiting for traffic lights, all that), and then there's ass-crack-of-dawn travel time. I like this. Just a few cars sit along the Fourth of July road, most of them belonging to backpackers. I love being one of the first on the trail! The sun has not risen yet, but the faintest light is glowing. My rule of thumb is that there's about 30-45 minutes of usable light before sunrise. I decide to leave my headlamp in the car, saving some weight that would be bouncing around uselessly after the first 15 minutes. In the upper 40s, the air is crisp but not cold - my nanopuff will remain stowed in my vest, which provides just the right amount of warmth on its own. Nothing left to do, and no ceremony. Let's get to lightly jogging!
Technically, the Hessie Trailhead is at the end of this rough 4wd road with a creek running through it part of the way. But for me, the Hessie Trailhead is where the road splits off from Fourth of July. Brave high-clearance car drivers are "rewarded" by shaving a half-mile of foot travel off each end of their trip. Well, it's also rewarding to access a couple more parking spots when the road is parked full and the only other option is to take the 15-minute shuttle from the high school. Ugh: logistics, waiting, and company. I think I would just give up on my hike if I had to shuttle. But I'm a fickle presence on the trail. So I kind of understand potentially damaging a vehicle or flooding its engine as a logistical consideration. And if you got stranded, you'd probably get to see a moose in the adjacent wetlands. Wow, I'm digressing fast.
5:08 AM: Official Hessie Trailhead
I carefully place my feet among the rocks in the inky dawn light and soon find myself at the bridge over Middle Boulder Creek's North Fork, signifying the "official" start of the High Lonesome Loop. The name of the trail at this point is King Lake Trail. But trails are like rivers, and when two branches come together, one name has to win out. I'm not headed to King Lake, at least not directly. It's just a name. Because it's Hessie's one and only access point to all the Indian Peaks have to offer, I've done this trail a good number of times. Just last week I was up at Lost Lake, which is a quick scamper from Hessie, and that's when I got the idea to return to hit the High Lonesome loop. Disclaimer: I've done this before, but I didn't end up writing a trip report.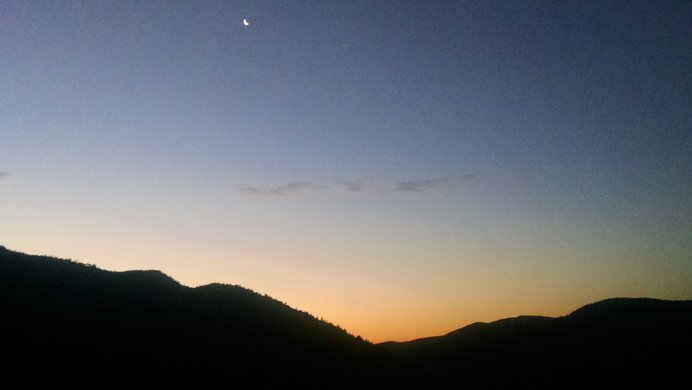 As usual, it's run when I can, walk when I have to. The terrain slope has me switching back and forth. The trail features rocks kind of like those in a riverbed. If I push off too hard, they kick out behind me and I don't end up going anywhere. This stacks the deck in favor of walking. A little zigzag of a switchback, and the trail flattens out and the riverbed rocks give way to gravel and dirt. Time to cruise a bit. The trail undulates and parallels Middle Boulder Creek's South Fork (keep up, there's going to be a quiz at the end), which is thundering along to my left. I rock hop across a couple inches of running water here and there.
5:20 AM: Devils Thumb Bypass trail junction
A little over a mile from my starting point, I come to the first trail junction. To the left goes King Lake Trail. I take the tributary to the right: Devils Thumb Bypass. Confusing name, in my opinion. I will not by bypassing Devils Thumb at all; this trail bypasses a bit of the Devils Thumb Trail, which splinters off further up the King Lake Trail. Semantics. I still check the signs out of an abundance of paranoia, then bear right. Now I'm paralleling Jasper Creek (write that down). In a sense, I was always paralleling it, because it flows into Middle Boulder Creek South Fork. It was just mixed up with some other water in there. Well, whatever you call the water, Jasper is pounding hard not far to my left. It's steeper now and I'm walking again. Then running. Then walking. That's just how this ascent goes. The trail dips down slightly, the trees part, I'm spat out into a gorgeous meadow, and then I pass a sign demarcating the beginning of Indian Peaks Wilderness.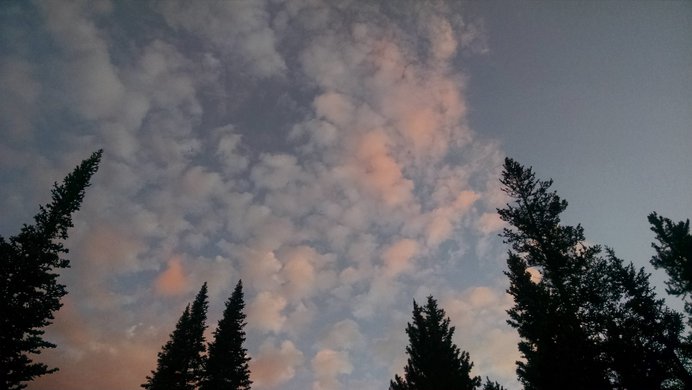 The sun is shining in earnest, projecting a pink glow into the clouds above. I could take a hundred pictures and I would still fail to represent the dynamic scene playing out overhead. The clouds and the light evolve on their own timescales. The entire forest glows too. The quality of light during a sunrise is ephemeral. That's what makes it so special: there's no time to get used to it. It was pink, but now it's orange, and now it's red. I content myself with a few unsatisfactory photographic representations, then I focus on trying to savor the entirety of the experience. There's nothing like a mountain sunrise. Each one is unique. The clouds, the atmospheric conditions, and the angle of the sun are never exactly the same.
6:05 AM: Diamond Lake trail junction
From what I understand, this is the area where Josh Hall laid down to rest. He went out in February and never came home. A huge winter storm blew in that night. Many times in the past few months, I have looked west from Boulder's peaks toward the continental divide and wondered about him. At some point it was all but certain that he had perished in the cold. Just this week, his remains were been found and identified. I hope his family is able to rest a little easier now that the search has formally concluded. He left this world through a most beautiful portal. His demise is an unfortunate reminder of the gamble we all take when we enter the backcountry. It would be a false comfort to tell myself that he made an unwise decision that is below me. We all roll the dice when we embark into the harsh wilderness, and none of us is immune to bad luck. The stakes are real when heading toward treeline, and in my opinion that makes every trip a truly life-affirming adventure. I reflect on Josh, and I don't feel exactly sad. Mournful, perhaps. I felt sad back in February, wondering what he was experiencing, as well as those who care for him. But now, I feel a pervasive sense of peace. A little further up the trail next to Jasper Lake, a missing hiker poster has yet to be taken down. I treat it like a monument to Josh. I put my hand on his photo and just hope he's resting easy. Josh will haunt these mountains, I tell myself. Why does haunting get such a bad rap? I see nothing wrong with Josh's spirit spending some time zooming in and out of these basins; in fact, I encourage it.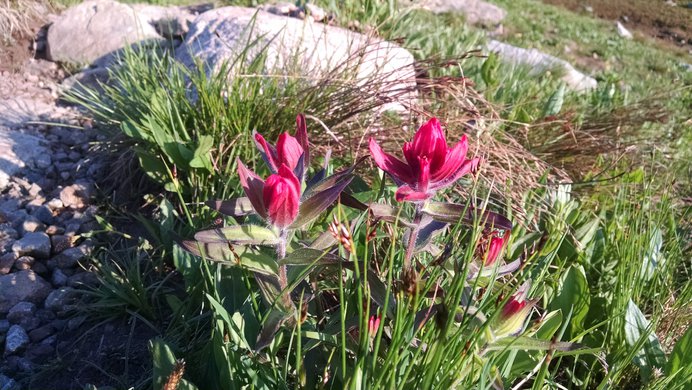 6:33 AM: Devils Thumb Lake
The sun's going full-blast now and I am comfortably warm. The trail would be more runnable if it weren't for the slimy mud. I commit to staying in the trail's slop rather than stepping to the side and trampling on the tender tundra. I have to walk the walk, I grumble to myself. As the trail winds through some willow patches, I somehow manage to roll my ankle. A cascade of curses spontaneously arises. This only happens when I feel like I'm alone. On the trails down in Boulder, I keep my lips sealed a little tighter, because it's safe to assume someone is always nearby. Out here, I've been cursing, burping, singing, and farting much more than usual.
I stop in a particularly nice meadow and soak in the view of Devils Thumb, a rock formation that splinters off the ridge above (there's an identically-named formation that hangs off Bear Peak's south ridge down in town...it seems the early surveyors had a slim list of names to draw from). There's a lake below. This type of scene is just my bread and butter. I love the summits, but man oh man do I love the enclosure of a glacial basin. My heart sings, and so do I. As a few notes of Olivia Rodrigo's good 4 u escape my lips, I realize there has been a tent sitting across the meadow this whole time. I'm a little embarrassed about my song choice, but I'm a lot embarrassed about my choice to pee here. Let's just hope the occupants are still asleep. Moving along...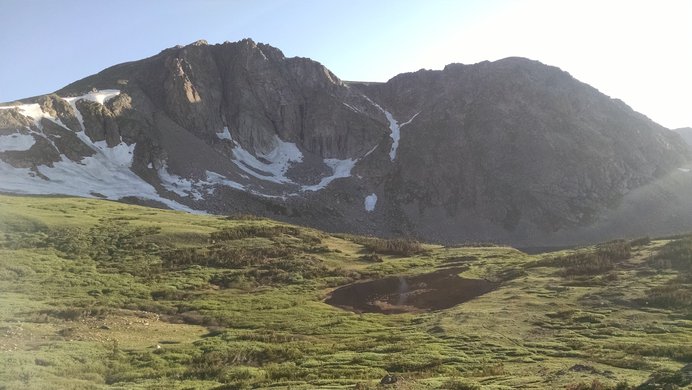 The trail is dropping a bit, opening up my view of the basin. The remaining path to the divide appears as a streak of brown on a green slope in front of me. As is usually the case when escaping a basin, the climbing will get a lot steeper, but it appears there isn't much more vert to be had; I suppose I've been steadily gaining elevation all morning. Golden morning sunlight is kissing everything around me, endowing it all with a celestial quality. I remind myself not to work too hard so I can savor my surroundings (I have a tendency to put my head down and grind up a climb) and I begin my hike up the final ascent. The trail cuts across the slope at first. Not too steep; I'm zipping along. But then it turns straight uphill. Oof. My progress slows. The trail is definitely the steepest it's been all day. The narrow rut in the luscious alpine grasses passes through a field of tiny wildflowers. Tundra flowers tend to be microscopic and colorful. It's a good thing I'm hunched over so far; I'm able to get a close-up view of the delicate little guys.
The climb is even shorter than I remembered. I'll be topping out any minute now. And then I see him. My ambassador to the high country. He looks like Punxsutawney Phil's cousin. A marmot. My first one of the season. Giant fat alpine ground squirrel. I take a picture from very far away, because I need to make sure I document my first sighting of the year. I probably could get pretty close to him if I'm careful, but in my excitement I call out to greet him. He runs a bit down the slope and disappears beneath a rock. I know he won't be the only one.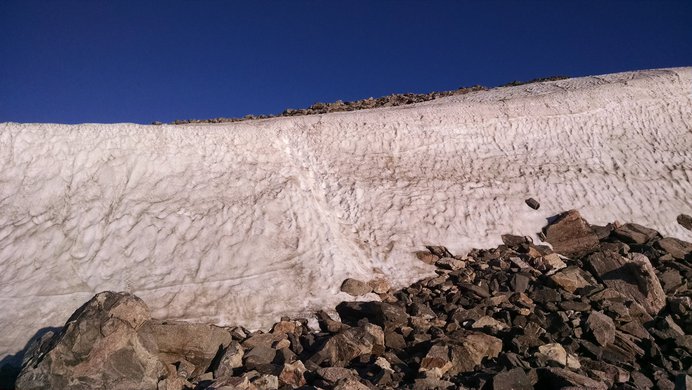 The final obstacle to the continental divide is a huge cornice, a snow feature formed from months of persistent westerly winds piling up powder on the east side of the divide. It's one of the last snow features to disappear in the summer. I could avoid it by hiking out of my way on rocks to the north, but I am in adventurous spirits. Some microspikes would have made my life easier right now, but I'd rather not have that extra weight bouncing around on my back while I run. So it's time to go quadrupedal. I dig my hands into the snow and make my way up. The snow has softened a bit in the sun, and others before me have kicked some steps into it. I'd officially classify the climb as NBD. Going down it without traction might be a different experience...I don't know how I would stop myself from sliding the 20 or so feet down its steep face into the rocks below. But that's part of the reason I went this direction around the loop.
6:55 AM: Top of Devils Thumb trail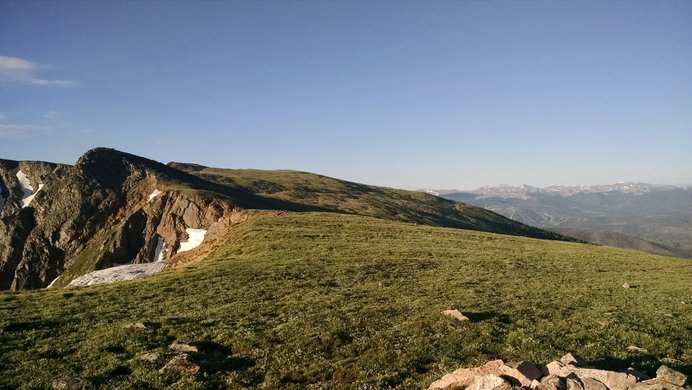 And just like that, I'm standing on the continental divide. I'm just giddy. There's something about being up here. I'm always looking up here during my time on Boulder's peaks, and now I'm standing here looking the other direction. Winter Park is nearby on the flip side of the divide. Best of all, I'm standing in a gorgeous alpine meadow and I'll be staying up here for a couple more miles. It's a perfect day to be up here; I don't even need to don my jacket or gloves. This is maybe my favorite kind of scenery. I soak up the feeling. The difficult climbing is over, and now I'm jogging along gentle green undulations. I get a few feet from a marmot before he scurries away. Before I know it, I'm dropping down a few switchbacks to Rollins Pass, a road accessible to 4wd vehicles. I see my first humans in hours - backpackers just starting their trip.
7:25 AM: Top of King Lake trail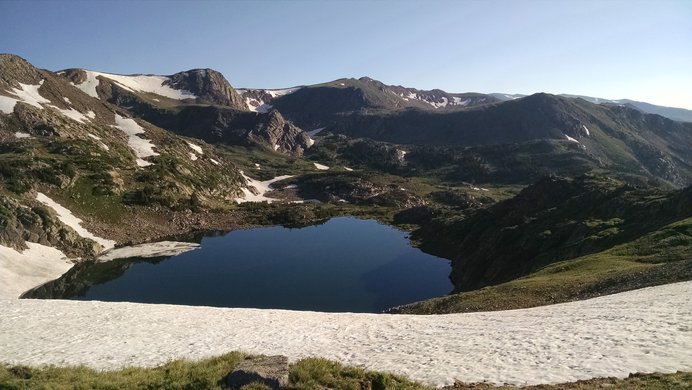 While I pull off the trail to allow the backpackers to conserve their uphill momentum, I take a look down into the basin I'll be dropping into, which contains King Lake. Mileage-wise, I still have a ways to go, but I'll be getting a gravity assist the whole time. As long as I don't fall on my face, the hard stuff is over. I re-tie my shoes as a ritual to ward off rolled ankles and I skitter down the rocky trail. King Lake is on my left and it looks great. I can't wait to drink some of the water that's spilling over the edge of its bowl in the form of Middle Boulder Creek's South Fork. I pass some trail runners who are taking a break; I suspect they are running the same loop as me in the opposite direction (Strava later confirms this).
Now I'm starting to see people in earnest. As usual, this dampens my wilderness spirit. Indian Peaks is an area created using the powers of the Wilderness Act of 1964, which ostensibly governs how things work out here. Here's the gist: "A wilderness, in contrast with those areas where man and his works dominate the landscape, is hereby recognized as an area where the earth and its community of life are untrammeled by man, where man himself is a visitor who does not remain ... retaining its primeval character and influence ... which is protected and managed so as to preserve its natural conditions and which ... has outstanding opportunities for solitude or a primitive and unconfined type of recreation".
Flying in the face of best practices (and regulations), campers have nearly set up their tents in the middle of the trail and right next to the water. Unleashed dogs bound up the trail to terrorize wildlife. Why are you all screaming? my inner gremlin demands. (Now, there's no explicit rule against that, but I would appeal to common sense, decency, and most of all reverence for the cathedral in which we are standing.) I growl internally but wish them all good morning...my spirits are too high to make a fuss. I don't linger. I felt like I was on the moon just a few minutes earlier, but now I'm reminded that I'm actually about an hour from the Front Range metro on the day after the Fourth of July. My bubble has burst. I'm not too upset, because it's all what I expected. A person can be respectful in a wilderness area, but people are disrespectful pieces of shit. Just how it goes. I know places to go if I really want to be left alone, and this ain't it. On the one hand, I feel like Shrek wanting to be left alone in his swamp. But on the other hand, this is a sublime trail for running. I choose to focus on that.
7:36 AM: King Lake trail at South Fork Middle Boulder Creek
Before I rock hop across the creek, I stop to gulp down some water and one last energy gel. I could manage make it back the car without either of those things, but I have learned that my quality of life for the next few days is higher if I don't unnecessarily deprive my body of the essentials. I dump some cold water on my head too, because the day is warming up and I'm headed to lower elevations. Now I'm cruising the downhill. Luckily I still feel strong and comfortable, so I can truly enjoy this last bit. Sometimes I need to focus on foot placement around rocks, but a lot of the time I am gifted with a clear dirt path. The grade is never too steep, so I can maximize my energy savings. I pass the Wilderness boundary...then the Devils Thumb, Lost Lake, and Devils Thumb Cutoff trail junctions. Seeing more and more people all the time. I am coming back to civilization; I'm leaving the Earth. I'm negotiating my way around groups of hapless hikers rather than rocks (which don't get startled and move unexpectedly). The time when I had these trails to myself just a few hours ago feels like a dream. I'll be looking to get another hit of that soon.
8:35 AM: Hessie Trailhead
The parking area is now completely full; cars are being redirected by parking attendants (a new sight for me) to drive back to the high school so their occupants can take the shuttle. My departure will save one lucky vehicle from that fate. Unfortunately, the would-be lottery winner drives past me as I wave her into my spot. Her car leaves behind a vaguely skunky smell...wonder if that is related. The Hessie madness is in full force. Get me down the canyon!