Currently laying in my tent...
With another day comes more knowledge about backpacking. Figuring out all the small things makes the overall experience much better. For example, I finally learned to get my tent pitched the way I like, and as a result my tent didn't take on water during last night's thunderstorm. I've also learned how to move around in here comfortably (here's a tip: don't pitch on a slope if you don't like sliding to one end). I've learned that it's useless to keep my hiking clothes dry because I sweat so much; I might as well hike right through the rain and enjoy the shower, like this morning.
I got to sleep in because I was waiting for the ferry. I awoke to only a few drops of water tapping on my tent, so I took my time using my absorbent towel to wipe the condensation from the inside, careful not to miss a spot. I finished my routine inside my tent. Did you not read about my routine? Now's your chance to do so and come back. It's riveting. When I was ready to leave, I put on my clothes that had been out in the rain all night getting clean, then started to wipe down the outside of the tent. Obviously this was the cue for a downpour to start. I hastily rolled up my soaking wet tent. Oh well, practice makes perfect!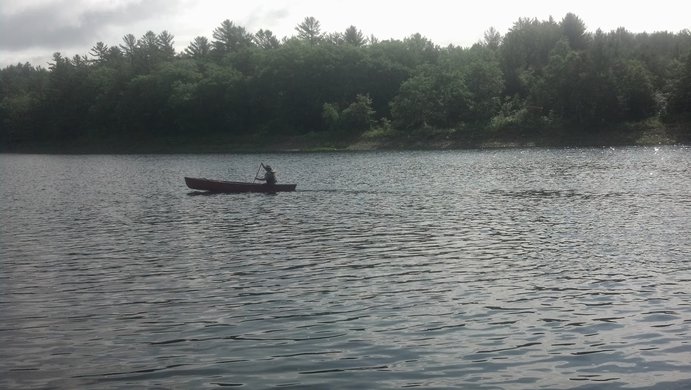 I was the first person to take the canoe ferry this morning and soon I was across the Kennebec. After hiking in solitude through this surprising level of humidity, I stopped at a lean-to to air out my tent. And to dry out my feet. I am extremely paranoid about hurting my feet in any way, so I pamper them as much as I can. An uneventful day of hiking caught me up to a ton of sobos: the Globetrotters, the Bobs, the Stoners with Boners, Leg-it, and Moto. They were splashing in the pond when I got to the lean-to, and I joined them. Even better news: they had found shampoo in the lean-to. Now I'm kind of clean. They cooked up a snake they had killed, saying it tasted like bacon. It seems like a good crew, so I hope we get to Stratton, a town a couple days out, around the same time. Pete, a guy tenting behind the shelter, said he'd buy us all a beer if we met in Stratton. I hope he likes going to the bar in the early afternoon. Because I'm a man with a plan! My next town stay will be in Rangeley, less than a week from now. The body is feeling rested after today, a requirement for hiking some mountains tomorrow.