Currently sitting in one of the lean-tos...
Today was a normal day on the trail. I woke up and got going at the usual time, covered good mileage in the morning, then stopped at a shelter for a break and to refill my water. Next came a climb up Little Bigelow Mountain that forced all the water I had just drank out of my pores. I descended into Safford Notch then stopped for lunch. The big challenge of the day was right ahead: Bigelow Mountain. It was my first time climbing above 4000 feet since Katahdin, so I knew I needed a break first. Nonetheless, I got my butt kicked and couldn't take enough breaks on the way up. I climbed above treeline and triumphantly ate a Clif Bar as a hoard of flying insects tried to eat me. My original plan was to tent between the two peaks of Bigelow Mountain, but it was early so I decided to head on down to Horns Pond. Doing so meant climbing up West Peak, the higher of the two, and over the South Horn. My body had pretty much given up on walking at that point, but my mind prevailed.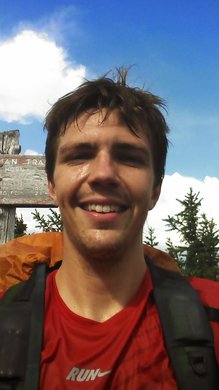 So here I sit in the lean-to, not having to pitch my tent and enjoying the shelter from these sporadic late-afternoon rain showers. I sit in my sleeping bag enjoying Crystal Light in my water, which I made too concentrated but WOW it is good. I'm just five miles up the trail from Stratton, where I'll resupply and eat some town food tomorrow, oh yes oh yes. Still trying to decide where my next town sleepover will be, but that's for another day.