I didn't get saturated today! I started off with my pack's rain cover on, under the assumption that it would soon be pouring. I was wrong, although the thick, humid air remains and the trail is often standing water. The first part of the day meant climbing up Poplar Ridge. It was a hard climb, but I shouldn't have felt so tired. The last couple hard days have sapped my legs. I made it over Saddleback Junior, The Horn, and Saddleback Mountain by 5, just in time for my normal dinner! All day I leapfrogged with Mutt and Slips, two sobos from the last lean-to. Tonight I'm sharing the lean-to with three guys out fishing. Massachusetts accents and everything but really nice. They gave me a peanut butter and chocolate s'more, so they're friends of mine. I'm thinking of going in to Rangeley for a snack and maybe a movie, since I just found out they have a movie theater that I can stink up.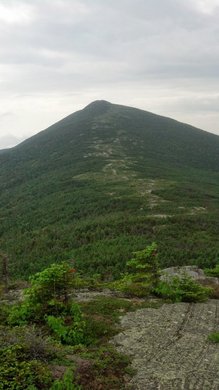 The shelter in which I sit is located at mile 218.6, exactly 1/10 of the way along the trail. This means I am permitted to look at a fire intently and to be reflective. So here is what I thought about today while I was hiking:
The hundred mile wilderness was actually the perfect way to start a hike. Now I know how much food I need, and every resupply will be shorter than that. And my pack will never be heavier.
The human body is incredibly resilient. Every night when I hike in to camp weak and sore, I imagine I won't be able to walk the next day. Somehow I wake up every day and feel almost pain-free. I've fallen down at least 20 times in the most painful-looking ways, I've tried to impale my temple on those stubby branches on the sides of trees, I've been bitten to death by bugs. And yet, my body forgives me.
Hiking 10 hours in a day gives your mind a lot of time to wander. I was really worried where it would go. But I sort of go in to a trance and thoughts harmlessly drift through my head, sometimes sticking. You have a lot of time to gnaw on thoughts out here, which I think is good.
This entire trip depends on the hospitality of others, and people totally deliver. Giving rides into town, offering snacks, leaving trail magic. If anyone ever doubts the innate goodness of people, they should spend a couple weeks on the trail.