Currently sitting in the shelter...
Today went just as planned, so I'm a happy camper (get it??). I ate four of my maple donuts from last night and had a small seizure, then started getting my stuff together. I was waiting on the curb when the shuttle pulled up. Despite being from a trail town, the driver had questions about the trail. I happily answered. I'll talk to anyone about the AT. She was really pleasant, especially considering it was 6 in the morning. I hiked the mile of bike path to the trail and resumed my hike. The terrain was pretty good and I could cruise all the way to Lonesome Lake Hut. I was sad to leave the last one, so I stopped inside to say hi and fill up my water bottle. Departing, I knew I had a steep climb up Kinsman, which I had been warned about at Chet's Place. Steep climbs aren't a problem though; it's figuring out the descent that is tricky. It was odd...as soon as I passed the last hut, it was like the AMC stopped caring about the trail. It really reminded me of Maine: slippery rock slabs sticking up at all angles with mud in between and overgrowth everywhere. This all combined for slow going, but my early start allowed me to be patient as I navigated the rocks, which all had a fresh layer of whale snot. Nevertheless, I took a few spills. A particularly ungraceful tumble left me on my stomach on top of a mossy boulder with all four limbs sticking out. With a pack on, it was a little tough to get up, but I managed like a turtle would. Even when the elevation profile leveled out in my guide, I found myself on little slick ups and downs. Bleck. Things turned around after I stopped at the AMC's last campsite, where the caretaker looked at me and hollered to the trail, "You're going to make it, I just know it!" After that, I ran into some section hikers and a nobo, which made for an enjoyable chat during which I learned of trail magic in Kinsman Notch just ahead: soda and jolly ranchers. Alright, I can handle this day with no problem.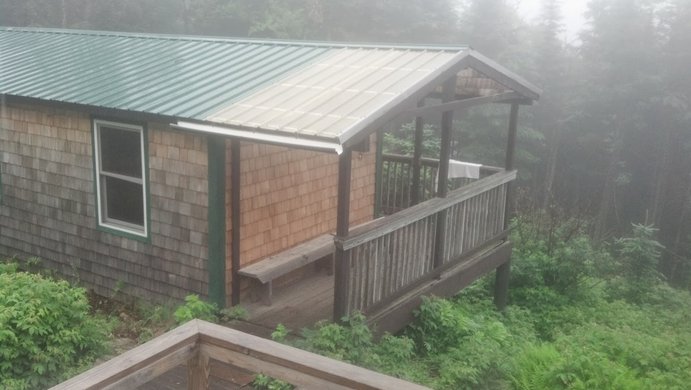 I raced downhill and crossed NH 112, officially leaving the AMC's jurisdiction. The next section of the trail is managed by the Dartmouth Outing Club (DOC). I felt a little nostalgia for my time with the AMC, but then I remembered there was coke on the other side of the road. I fueled up, stuck a few jolly ranchers in my hip belt pocket, and took off up the Beaver Brook Trail, approaching Mount Moosilauke (pronounced MOOSE-ill-ock), one of the steepest climbs on the whole AT. In walking up to the shelter, I would gain 2000 feet of elevation in less than a mile and a half. Like I said, at least I didn't have to walk down it! With the threat of a thunderstorm rolling in and the pure sugar power of a jolly rancher in my mouth, I started the climb. The rain had picked up, so my natural cooling system was in place to prevent my overheating. It helped a lot; I soon found myself powering over the steep, slick rocks. Those hikers coming down received my deepest sympathy. There were wooden steps attached to the slope in spots, and there were rebar handholds at opportune places, but I still imagine that hiking down in the rain would be a toughie. Soon, I saw a sign for a protected forest area. In the White Mountain National Forest, you can't camp within a quarter mile of roads, official campsites, shelters, and the like. What this really means for hikers is that there are signs to announce when you've almost reached the shelter! I was pretty happy to be done with a long day. The shelter held two sobos and three nobos when I popped in. They scooched over to make room for me, and now I'm in bed for the night. I'm proud of my day, and now I'm halfway up the last big mountain for a looooooong time. What will I do with myself? Probably scare northbounders with horror stories of walking on uneven ground. Who is seasoned now, nobos??