Currently sitting in my tent...
I woke up to a crisp, cool morning. I didn't really want to leave my sleeping bag, so I did every possible part of my morning ritual with my legs still inside the cocoon. It was great not to wake up to rain. The sun was shining! Instead of my rain jacket, I put on my nano puff jacket to start. I left my pack cover stowed away. The trail was still muddy, but at least I could enjoy the sights. I took a gradual climb up Smarts Mountain: 2000 feet over 4 miles. I think I would rather climb all at once and then enjoy some flatness. Instead, it was a little bit uphill for a long way. After yesterday's big miles, my legs were feeling pretty sapped. I kept taking breaks to talk to passing nobos, and I stopped to climb the fire tower on top of Smarts. The view didn't disappoint; it was a clear day and I could see for miles in every direction. At the base of the mountain, I saw a sign for Bill Ackerly's house. Bill is the definition of a trail angel. He lives a couple hundred feet from the trail and loves hiker visits. He wasn't home when I stopped, but a note on the bulletin board instructed me to go around to a screened-in porch to find ice cream.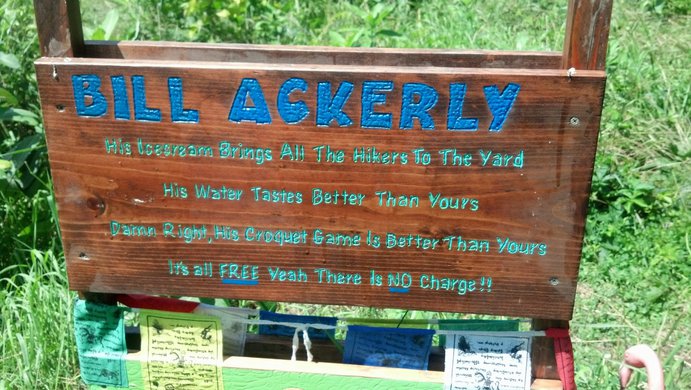 Sure enough, there were ice cream bars to be had in a freezer. I relaxed on his porch, used his WiFi, and ate my treat as two more hikers showed up. I assuaged their worries about the White Mountains a little bit, and we ate lunch together. I was the last to leave of the group, enjoying a nice long rest before the remaining few miles to my planned stop. After a big lunch in which I used up most of my peanut butter and three tortillas, I powered up Holts Ledge until I began to feel a little wonky from all that heavy peanut butter sitting in my gut. I slowed down and enjoyed the hike down to the road then back up Moose Mountain. On my way up, I met a guy who had been resting at Moose Mountain Shelter. He told me the mosquitoes were bad and that some guy was laying in the shelter sick, making my decision to pitch my tent a very easy one. Once at the campsite, I did pay a visit to my sick comrade but kept it short. I want to stay on for the long haul! He's a nice guy but I'm sure he'll be alright without me. I would write a little more but I'm pretty tuckered and I want to get up early to get into Hanover tomorrow. I've heard good things and the trail goes right through town! I'm praying for a good movie in the theater. Wish me luck.