Currently sitting in the shelter...
Before I fell asleep last night, I lay looking at the ceiling of the shelter, listening to music. I looked out and saw some of the last glimmers of golden sun. I suddenly got this sort of deja vu feeling. This was exactly how I imagined the trail would be, before I started. Something about the sounds, the cool air, and the fading light made for my perfect moment. I felt bad for having wanted just to get this state over with. In fact, it might be signalling the transition to the southern Appalachians. When I started out this morning, the sun was shining again and I couldn't help but smile. Today was a testament to how much a good attitude can improve your day. I didn't rush over any rocks I came across, letting the terrain dictate my pace and saving myself from any more tumbles. A few miles into the day, I came upon the most bountiful trail magic I've seen to date: tons of gallons of water and a giant Rubbermaid tub filled with cupcakes, trail mix, bread, and peanut butter. I stopped to write in the logbook before I began devouring (it was the least I could do). I got to Bake Oven Knob over a boulder field and took a side trail for a view. Flat land stretched below, divided into farms. It looked like the back of a Bob Evans menu. I loved it. Continuing on, I crossed a couple more boulder fields/rock scrambles that I had been warned about. Without any rain to make them slick, the rocks just made for fun climbing. Knife Edge was another great view.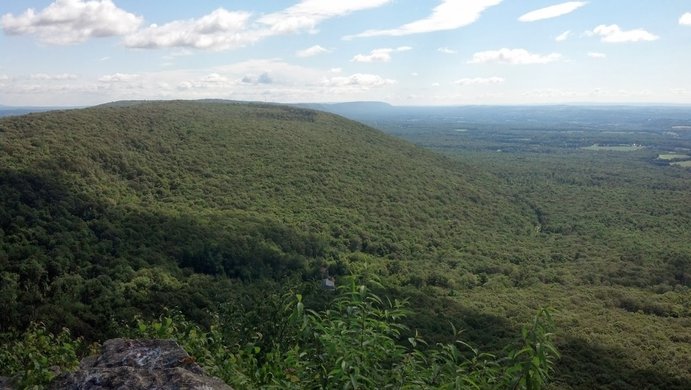 For lunch, I stopped at the Blue Mountain Summit Restaurant. I finished last night's journaling as I ate (woops!). Recharged on a grilled portobello sandwich, I tackled the trail again. This was another section of emergency access road that was really smooth walking, so I let my mind wander. It settled on the article David Lauderdale had just written for my local newspaper about my hike. I felt incredibly honored to be spotlighted like that. I felt pretty special, the trail was flat, the sun was shining, and it was comfortably cool. I whooped and raised my trekking poles above my head in jubilation. I met the next couple boulder fields with the same cautious respect as those from this morning, and I was soon on my way down to the shelter for the night. I stopped at an overlook where a day hiker was already enjoying the view. He was about to leap onto one of the ledges when he spotted a rattlesnake looking a little peeved. It was my first one of the trail, but I didn't feel like getting close to take a picture. He looked poised to strike if necessary, and I really have no idea how far they can spring. I took this as my cue to head down the ridge. I settled into a rhythm, only to come across another rattlesnake laying in the middle of the path. We both reacted in the same way, jumping nervously then freezing. I edged my way around, safely off the path, and he did the same on the other side. I snapped a really horrible picture and kept going. Now I am at the shelter, which is unique in that it is in a neighborhood. It sits behind the house of the caretaker, and it has a solar shower in the front yard. It is needless to say what I'll be doing this evening. I had been warned that the caretaker was grumpy. When I was cooking dinner, he hollered, "Want something other than water to drink?" and tossed me a Sierra Mist. It goes to show what a little politeness and smiling will do to soften anyone up. Tomorrow I'll cross through the town of Port Clinton, the unofficial end of the "bad rocks" of Pennsylvania. They weren't so bad! I may get surprised down the trail, but I feel confident these rocks weren't all they were cracked up to be.
Nobo count: 8
Sobo count: 0