Currently laying in a bed at the Doyle Hotel...
Today was a test. That's the only way I can think of it. I got up at 5, which is now before dawn, and got ready like usual. As I walked down the shelter steps to visit the privy, I felt the familiar shock of pain in my right shin from yesterday. I took this as a bad sign but proceeded as usual. I hit the flat trail and the pain was again present with every step. I just wasn't ready for another day of this. It doesn't really cut down on my pace, except when I take breaks, but I was still pretty mentally exhausted from battling through yesterday. With Duncannon 29 miles on the horizon, I decided to make other plans. The first trail I came to promised a parking area ahead. I assumed I must have been in some kind of state park, so that sounded good. I just needed rest, no matter how I got to it. After walking down stone steps which exacerbated my condition, I came to a barren dirt road. I was in state game lands, like a lot of the trail in Pennsylvania. Not the best place to catch a ride. The road had to lead somewhere, but for the first time I can remember since Massachusetts, my phone had no service to check. I walked up a hill to find a couple of guys in military fatigues standing next to a big black SUV. They were shouting at subordinates as they marched by. It was some kind of military training exercise. I finally had service, and the map on my phone indicated that I was on a large military fort. No roads. No access to civilization. My face contorted in a combination of prolonged pain and frustration. I walked right back the way I came. The only way out was to push along the Appalachian Trail.
As luck would have it, I was on one of the most remote stretches of Pennsylvania trail. The ridge walking was mainly flat, but it really aggravated my shin splints to get a good stride going. I later learned that this condition was probably brought on by me taking big, pounding steps down the gentle slopes of PA. I got down into a gap, running into Bernie, the sobo I met last night. I told him of my plan to get a ride from PA 325, less than a mile ahead. "You know, the next shelter is less than seven miles away," he said. I snorted. The last 6.7 after the military camp had been torturous. The worst had been the few times I accidentally dragged my right foot on a rock, rapidly lengthening the muscles in my shin. Those were the moments I was almost brought to spontaneous tears. Another seven has, for a long time, been a piece of cake. But today was different. I whipped out my phone to call a trail angel listed in my guidebook to get a ride into Duncannon. Still, there was no service. The road ahead was silent; I hadn't heard a single car drive by. I quietly came to the realization that I would be hiking on.
It has been only less than a day, but already I can't understand how I made it here. Today's miasma of pain has made it all seem unreal. I walked across the bridge into Duncannon. I hobbled, really. I soothed my brain by looking at the map of town in my guidebook, planning out where I will go. I pray that my condition doesn't get any worse, but I actually didn't have a choice today. I can confidently say that I would never have been able to make this distance if I had a way out. But my only option was forward, which thankfully has led me to a bed and the option to take a rest day tomorrow.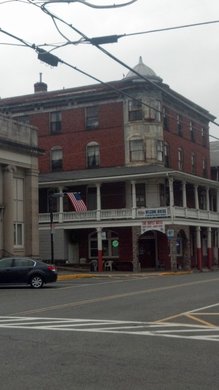 I turned a corner and saw something I had read about since I started my AT research: the Doyle Hotel. One of the original Anheuser-Busch Hotels, it's the only one still in operation. Yeah it's run down, but in the way my old college dorm was. It is old and creaky but clean for the most part. And who can argue with 25 bucks for a private room? I walked in to what arguably looked like a haunted house and talked to the lady behind the bar (the downstairs contains a bar and grill, which I'm told is pretty tasty), and asked about checking in. "Oh, you'll want to talk to the desk clerk then. Do you want me to get her?" I responded in the affirmative, then she turned her backwards hat around. "Hello! One room?" I can say without a doubt that I just took the best shower of my life. It's like I can finally forget the last two days' pain. I pray that my thru-hike won't suffer as a result, but for tonight I can rest easy.
Nobo count: 0
Sobo count: 1/2