Currently sitting in the lean-to...
Well let me start by saying that Maine had been very flat so far, other than the initial climb on Katahdin. My flat-land trail legs are ready to go, as the last couple days showed. However, today's hike reminded me that the AT is a path through the mountains. I got up at 5 so I would have another peaceful morning hike, and I was on my way by 6. I snapped a picture of the privy (the outdoor toilet) before I left, just so those at home would know what I'm talking about.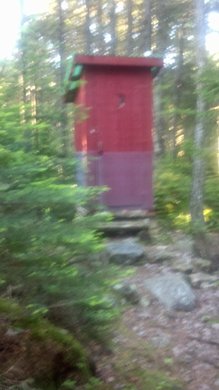 It was an easy couple miles out of camp until the trail turned upward to reach Logan Brook lean-to. Nothing uncomfortable, just some effort. I stopped at the shelter to have a snack, drink some water, and write in the register so those following me would have a friendly note. Right out of the shelter was a 1.4-mile climb up to 3650 feet on top of White Cap Mountain. After some sweat, I reached the top and put on my rain shell to keep the cold wind out. I was happy to have climbed 2400 feet since camp and to have a great view all around. Pleased with myself, I descended the mountain. Then climbed up Hay Mountain. Then West Peak. Then Gulf Hagas. I began to get frustrated because the downhills were both less rewarding and more painful than the uphills. My legs are sore but I've gotten here at noon, so I will have plenty of rest. To be continued at the end of the night...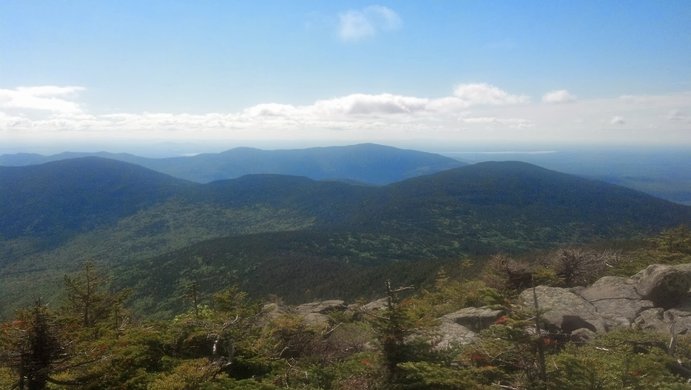 Hi again! Just got done with dinner and now I'm in the tent. Mulligan rolled in first, so we chatted and figured out plans for Monson, the town we'll be getting to on Friday and the end of the 100 mile wilderness. We're excited to eat town food and shower for sure. The Sobros got here next. Two of them have trail names now: Smash and Friar Bob. Sam remains unnamed. Blackhawk changed to Smooth because the first name sounded too serious. And just before I shut myself in my tent, Chef and Up arrived. So we all survived our first mountain day, and Sam shrieked for joy when he heard there were tacos in Monson.