Currently in my tent next to Cloud Pond...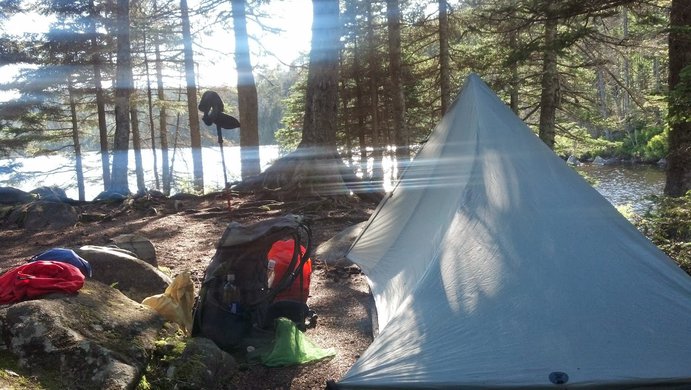 Trail magic! It happened to me for the first time today. Trail magic is a random act of kindness to a thru-hiker. I ran in to Don, a trail maintainer, as I was climbing Chairback Mountain. I talked to him about my thru-hike plans and asked him about growing up in Maine. He also told me that the two varieties of I've been seeing on the trail both belong to moose. Apparently, in the winter moose have less juicy foliage to snack on, so they make scat that looks like giant deer pellets. In the summer, the succulent plants they eat make for large dung. Who knew?!? Anyways, I stopped at the Chairback Gap lean-to for lunch. And 70-year-old Don soon followed. How fast is this guy? We talked a while longer and Mulligan showed up, asking if anyone lost a can of beans. It was Don's lunch, so he was grateful to have it back. He offered us snack bars and an apple. Oh my god the apple was so juicy and crispy and tasty, I hated to share it with Mulligan, but he's alright.
Mulligan and I hiked on down the mountain then did some ups and downs over Columbus Mountain, Third Mountain, and Fourth Mountain. I guess they ran out of names. For the first time in Maine, water was scarce and we had forgotten to grab some when we had the chance at a stream we forded early in the day. Most of the end of our hike was spent complaining of cotton mouth and fantasizing about soda. The shelter tonight is right on Cloud Pond, and that's just as beautiful as it sounds. It's really hard to capture Maine's beauty in photographs, at least for this novice. Today was a hard day, but here we are at our goal. The Sobros just arrived, but I'm in my tent for the night, hiding out from the tiny blood-sucking black flies. They are out in full force. They must notice my hiker stench, which is coming along quite well!