Currently laying in my tent, just above 12,000 feet...
Well, I certainly came here with a plan. I also did my best to sabotage my plan in small, (ultimately insignificant) ways. Let's back up to the beginning. This morning I realized that thunderstorms were DEFINITELY happening in the San Juans on Friday, and they would be starting early. I had a two-night trip in mind, but it was clear that wasn't happening. Cutting out the second day of my trip also meant scrapping plans for two 14ers: Sunshine and Redcloud. The drive to this part of the state from Boulder is pretty long...was I seriously going to spend all that time and all those fossil fuels to hike a single mountain? I disagreed with that idea on principle. I started to formulate new plans: perhaps hike close to home instead? But I really wanted to make use of this week to explore a new area of the state. My mind was really set on the San Juans, but I was having trouble justifying the trip. In a flash, it clicked. I would do something I call a "bang-bang". I believe this term originally referred to eating two meals back-to-back, but I had a slightly different definition in mind: I would hike Wetterhorn peak, a classic beautiful 14er, first thing in the morning (like REALLY first thing), and then drive to the other trailhead and start up Sunshine and Redcloud. Compress two days of hiking into one. Experience the catharsis of pushing my endurance limits. That kind of thing.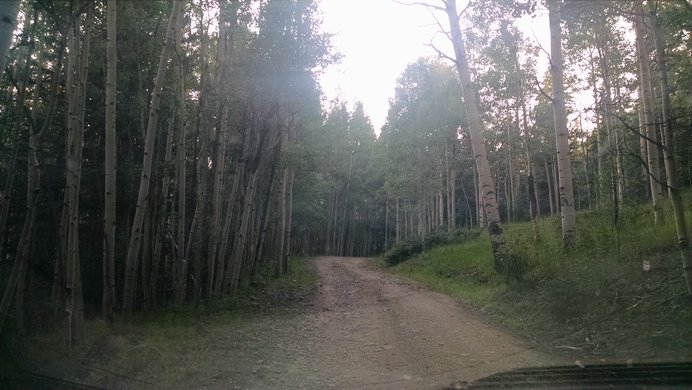 I have the fitness to pull this off right now. Thankfully, I've been blessed with enough time to diligently follow a hiking training plan since the beginning of the year. Back then, I was feeling pretty groundless, and a structured workout routine became very enjoyable, soothing even. I've always enjoyed the afterglow of a good endurance workout, and now I was approaching this endeavor methodically. I read Training for the New Alpinism, a workout guidebook specifically geared towards alpine hiking and technical climbing. I laid out a workout plan for myself and set to it. Now I had a reliable source of those wonderful endorphins. I didn't have any insane alpine aspirations; I just deeply enjoy hiking as a workout and I live in Boulder, just a few minutes from some awesome trails. A side effect of my diligence following my program: I have never been this tuned-up to hike. Not even on the Appalachian Trail (my diet needed some adjusting from the 4-candy-bars-a-day style that I enjoyed on the AT). So there I sat, all fit and nowhere to go. This trip would be the culmination of my efforts this year, the sweet reward that I didn't even know I was working toward. Tomorrow should be hard, but I'm gonna come out swinging.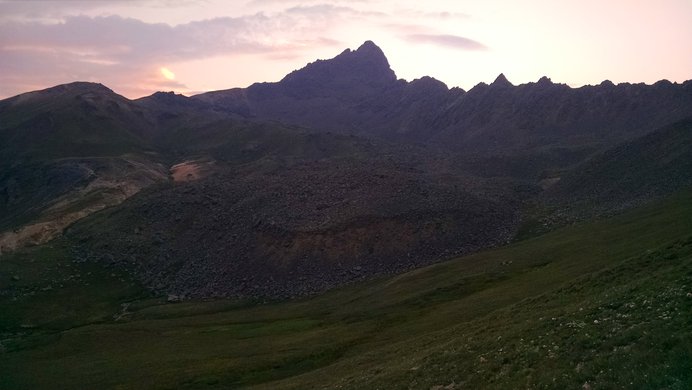 With this plan in mind, my priority this morning shifted to getting down to the San Juans ASAP. I wanted to be able to rest up for my big day. I would be camping next to Wetterhorn, and possibly popping up to a nearby peak for a view of the environs. I got my home life squared away and hit up REI for a map of this new territory. I bought extra snacks and I was off! Oh wait, I needed gas. Then I was off! Oh wait, I forgot a lighter. Then I was off! Oh wait, did I pack my headlamp? I grabbed an extra as I passed through Golden. Then I was off! A six-hour drive through South Park (yes, it is a real place), Poncha Springs, Gunnison (with a stop for some Subway, and to call 911 for a man having a seizure in Subway, and to have this man sit up and ask the ambulance not to come because he was worried about being charged for medical care, and to help advise him that one should feel entitled to get medical attention for blood coming out of the back of one's head, and to reflect on the US healthcare system), and Lake City.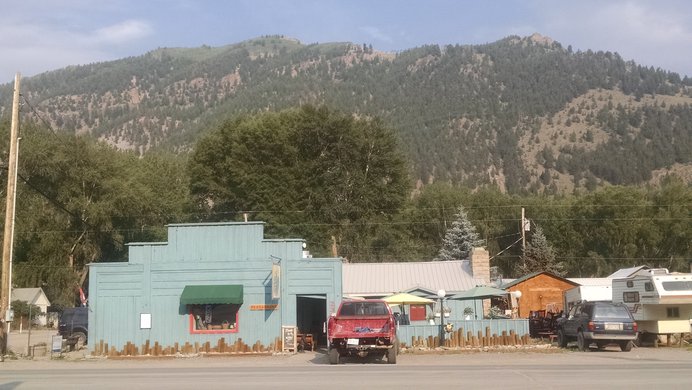 Traffic was slow, and with the medical emergency in Gunnison, I had scratched off my evening plans to hike Matterhorn, Wetterhorn's 13er neighbor. Not a big deal, and probably a wise decision overall. I've been trying to be more flexible with my hiking plans lately. I have a tendency to want to scrap everything when some aspect isn't juuuust right. Re-reading my Appalachian Trail journal has confirmed that this has long been a tendency of mine, but it's clear I'm getting better. It was already by the time I pulled up to a (teeny-tiny) gas station in Lake City for a little refueling before heading into the wilderness and to buy some fuel for my stove, which I had of course also forgotten. I don't know if I've ever felt so immediately charmed by a town. Coming down from Boulder, it was certainly a shock to actually meet eyes with people, both visitors and locals. Heck, some people were going out of their way to say hello! Perhaps it reminds me of some of the small towns adjacent to the Appalachian Trail. The convenience store I visited certainly gave me that Maine vibe: a tiny carpeted store that had the gear you needed, but not much superfluous junk. I couldn't help myself and began gushing to the cashier about the friendly faces and how much I love meeting gazes with another person, a small acknowledgment of our shared humanity; is Boulder really as weirdly antisocial as I view it?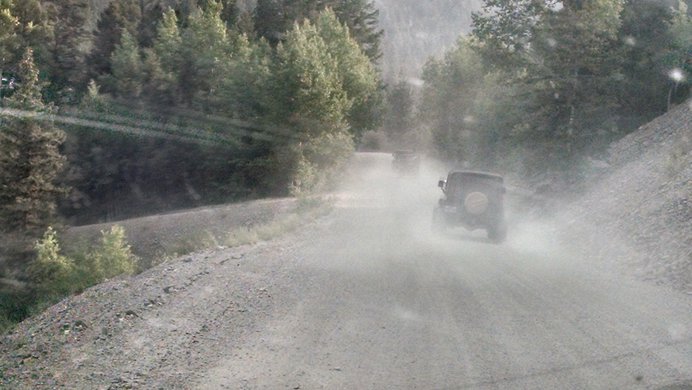 Reluctantly heading out of this great new town, I immediately found myself on a gravel road. This area is very popular with off-road vehicles; driving a modified Jeep can get you over some insane mountain passes and just generally opens up the whole area. I drive a 12-year-old Civic. Beep beep! In general, it's always interesting to rub elbows with folks from other parts of the outdoor recreation scene. Jeeps, ATVs, and muscular pickups everywhere. Between my tiny car, my lanky city-slicker build, and my boyish face that provokes people to earnestly ask if I can legally drink...I couldn't help but feel a little out of place. It felt like this part of the state is for running over mountains in a loud vehicle, and for shooting and taxidermiing massive animals. But I reassured myself of my worth and pushed on. Funny enough, I caught up to some Jeeps on the gravel road in my lil 2WD coupe. I backed off so I could see past the dust they kicked up and enjoyed the scenic drive to Matterhorn Creek trailhead. I passed a sign recommending a 4WD vehicle for the final two miles, but I had read otherwise on the 14ers website. So my poor little Civic had some aggressive driving to do, which I'm learning is par for the course in the San Juans. But I made it up there!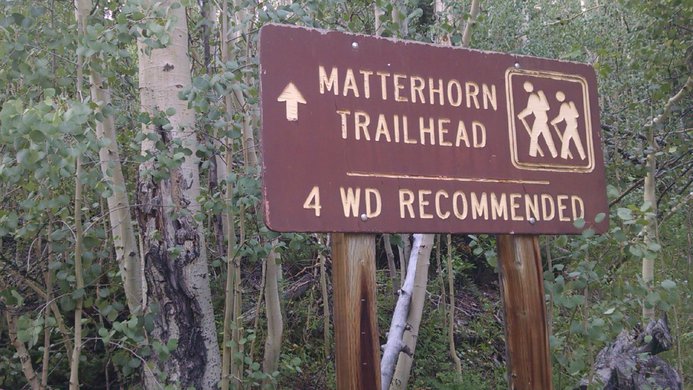 I parked at the lower trailhead and swapped out my mandals for my trail runners. I started motoring on foot, excited to take in some views on the way to find a nice campsite. Pretty soon, the trees abated and a lush alpine meadow unfurled in front of me, all flanked by the highest peaks of the rugged, dark red San Juans. Each of the state's mountain ranges has its own feeling. I don't know how to describe it - I just feel it when as soon as I'm at the trailhead. The Front Range is friendly and social and the trails are straightforward. Ditto the Sawatch Range, but those are a bit more majestic and sometimes a bit more threatening. The Sangre de Cristo Range feels inhospitable to me when I'm at the trailhead (heat maybe?), but that makes the alpine campsites feel that much more like an oasis, like I walked out of the desert into the place Timon and Pumbaa live. The Elk Range (think Maroon Bells / Aspen) look so incredibly beautiful, but I know better than to mess around with the untrustable rotten rock, making that whole range feel like a group of Sirens calling me to my demise. And the San Juans...damn. It feels the most comforting here. It could be the green fields extending well above treeline, contrasting with the almost-purple rock. Whatever it is, I feel a supreme sense of safety and belonging as I walk among these giants, in a way I don't in any other range.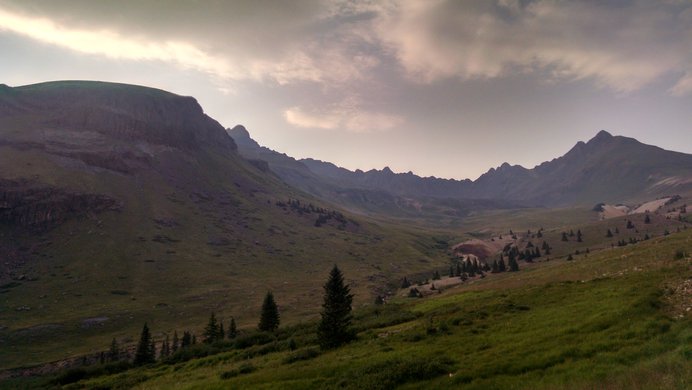 The walk up was incredible, literally jaw-dropping. I am not being hyperbolic when I say my jaw was unhinged from the time I left the trees until I got to my selected camp spot in the Uncompahgre Wilderness. I am encirled by the ridge comprising Wetterhorn and Matterhorn. As soon as I got here, I dropped my stuff and started hiking up the 13er Matterhorn, something I had decided I wasn't going to do. It wasn't a choice though; I was compelled to do this. There was no way I wasn't walking around my new neighborhood. I grabbed some water bottles to get water from the stream to purify (after reading reports of heavy metals from mining operations in the lower creeks, I had held out for some pure water). I grabbed the headlamp I thought I hadn't packed and just started booking; it was almost sunset. I didn't summit Matterhorn, but I got a great view of nearby 14er Uncompahgre. It's the tallest of the San Juans and perhaps the most unique looking mountain I've seen. From a pure aesthetic perspective, I think it is my favorite.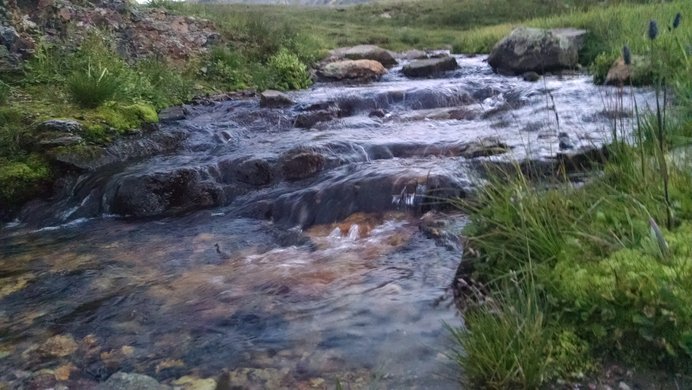 After a dunking of the hands in that pure, bitter cold stream, I headed back towards camp, which was not yet "camp" but moreso a pile of gear that I hadn't sorted through in my impatience to get to the slopes of Matterhorn. No light came out when I pressed the button on my original headlamp. It probably had been switched on at some point since its last use. Check your headlamps before you leave home, kids! I felt lucky I had chosen not to summit Matterhorn as I would have been relying on my headlamp to get back...oops. (My phone's flashlight would have worked, but still). Upon setting everything up, I once again understood I had forgotten something: the lighter I had bought after forgetting my first lighter. Damn. No hot food tonight, so my dinner has been soaking in my cold cookpot as I write this. And without a lighter, my substance-based plan to quickly fall asleep is foiled as well...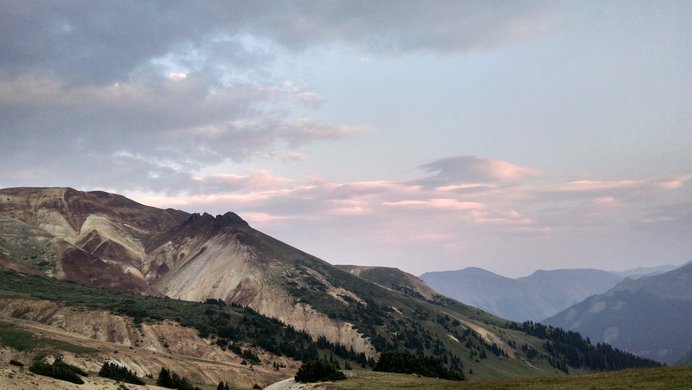 But I feel extremely optimistic about my chances tomorrow. Should be a wild trip report if all goes as planned. Or, y'know, if it doesn't.
UPDATE: The rice was pretty much edible after its long cold soak. I forgot my fucking spoon though. Sorry. Made it all this way without cursing. No fire, no tools, am I even a human? I did manage to craft a makeshift spoon out of a folded-up metal sheet that I usually use as a windscreen for my stove. Nothing about this was pretty, but the food is in my belly. So ha.