Back at the Matterhorn Creek Trailhead, I hopped in my beat-up Civic and headed down the "4WD recommended" road, taking care not to scrape my undercarriage on a large rock. I'm a pretty good rocky-road driver know that I've had to sherpa my little coupe up to so many trailheads. I'm sure my car would complain, if it could talk. But I appreciate the heck outta that little guy. I kiss my car sometimes.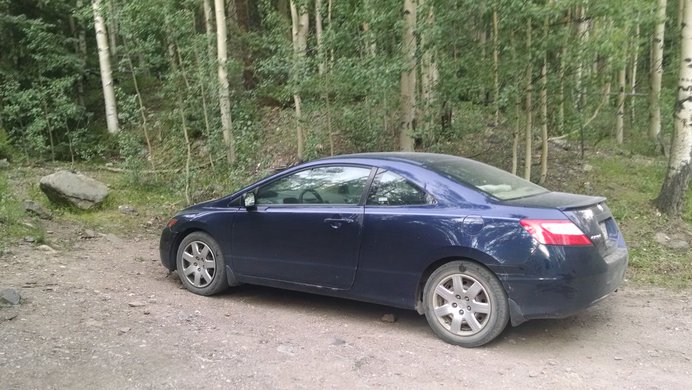 I passed back through Lake City and headed out of the city a different way, up another (much gentler) gravel road to the south. As is par for the course around here, I enjoyed an inexpressibly beautiful valley flanked by the mountains I planned to still climb. I paralleled Lake San Cristobal and other features of the Lake Fork of the Gunnison River, passing by the temporary homes of all the visiting Texans: campers, lodges, cabins, and tents. The gravel road was newly resurfaced and didn't present much of an obstacle to my car.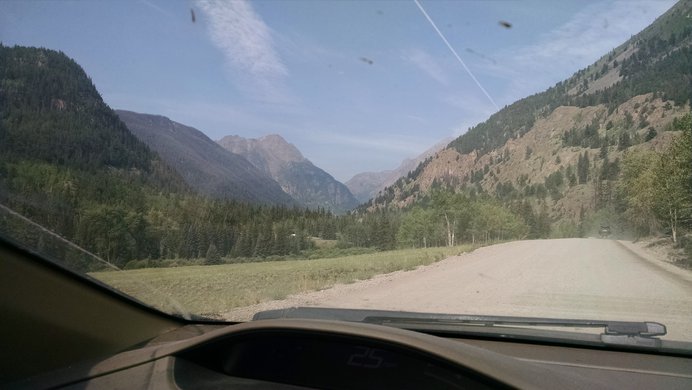 I caught up to some more off-road vehicles, which pulled to the side for me. Kindness still abounded out here today; I'm not sure I will be able to handle the shock of returning to Boulder. The nice gravel road turned into a rockier shelf road – the road is really a shelf hanging off the side of a mountain. I was successful at not thinking about that. The road was often only wide enough for one vehicle to pass, meaning I negotiated with oncoming traffic to decide who would use a pull-out while the other passed. Friendly waves were always exchanged, sometimes even smiles out of side-windows.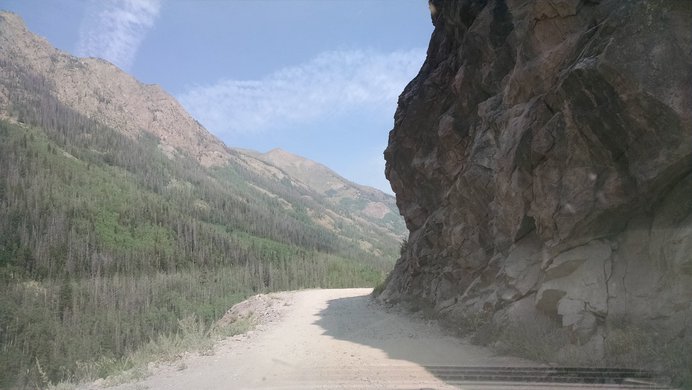 The trailhead was hot and busy. I got to work shedding my morning skin: swapping long pants for running shorts, transferring my goods to a smaller daypack, and putting on sunscreen to fight back the intense mountain sun. And eating: my second Clif bar of the day, a peanut butter and honey tortilla, and a mysterious sugary caffeinated powder in my water bottle. The offroad vehicles buzzed around the parking lot, and I soon retreated to the solace of the trail. Which in addition to being forbidden to offroad vehicle use, was a sanctuary for endangered butterflies! Of course it was! Why wouldn't it be!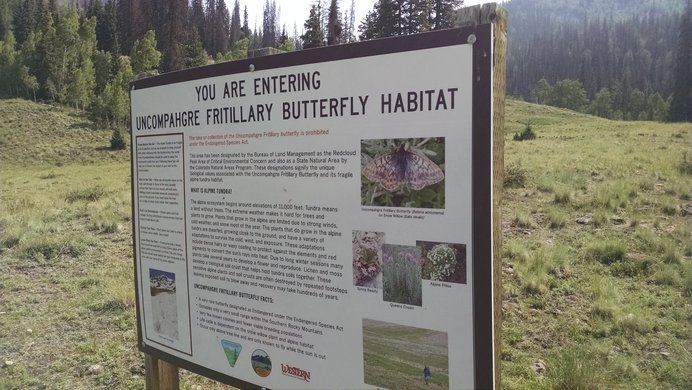 The initial hike was hot and sunny. The milky sunscreen residue trickled off my face and onto my glasses, forcing me to remove them and just squint. I started to question the wisdom of my plan. It was 10:30 and I was walking up a dumb hill and I was hot and grumpy. Would I make it all the way? Would I care enough to keep pushing?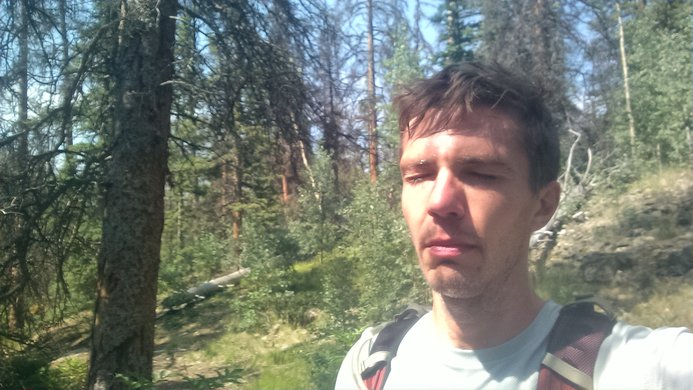 This downward mental spiral ended abruptly once the gulch opened up and the trail flattened. Ah, there were those butterflies, there was the gently gurgling Silver Creek, there was another alpine meadow up ahead. My questions were answered; I had found my second wind. This trail was more traveled than the one I was on this morning. I had more of those terse interactions: "Hi how are you?...op, thanks! Have a good hike!" Still, I encountered more friendliness than I'm used to. I stepped aside for two fast trail runners, who greeted me kindly, and waited to hear my responses. I think the San Juans might just encourage the best out of people.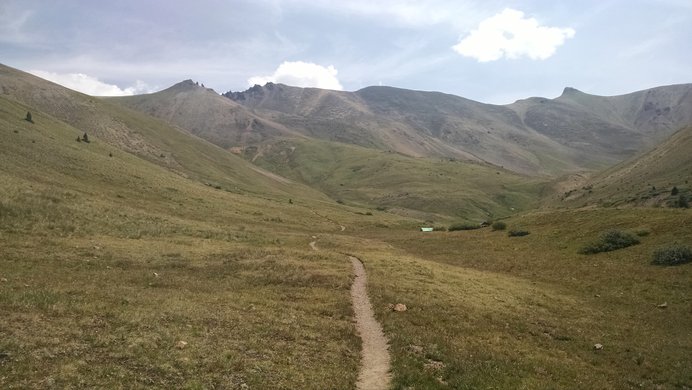 The trail finally curved around a bend and bloomed into a full-blown green alpine scene. The mountains created an enclosed dead-end, the only solution to which was to climb. I could see the trail coming a couple miles away; it wound straight through the bottom of the meadow then up to a saddle between two mountains before progressing up and out of sight. I love when I can see what's coming, it makes me feel disembodied, floating inexorably towards my goal. I glided through the meadow, tiring slightly from the day's cumulative exertion.

A few more friendly chats, longer and more animated with older folks, and I was on the saddle. The ridge running back to the adjacent peak was colored in so many vibrant stripes of red, yellow, orange, gray, and white that I couldn't believe my eyes.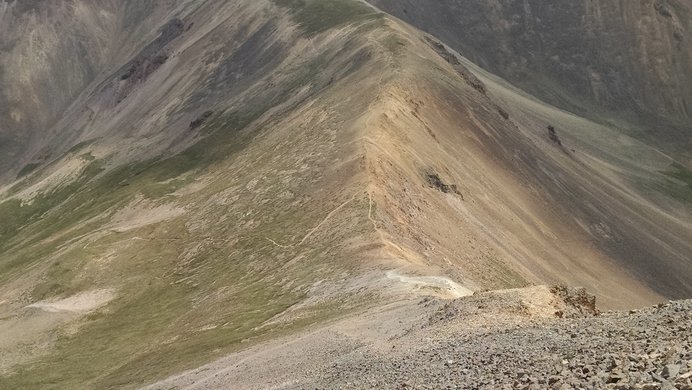 Redcloud's flank sported much the same color pattern, with more accents of red. These must be the most objectively beautiful mountains I've ever seen. Like, I could see how people could think others are more beautiful, but these are the most photogenic. As I gained perspective climbing higher, it was clear that something geologically special was happening. My final push to Redcloud's summit was through a martian landscape of bright orange rocks. I had surely left the planet.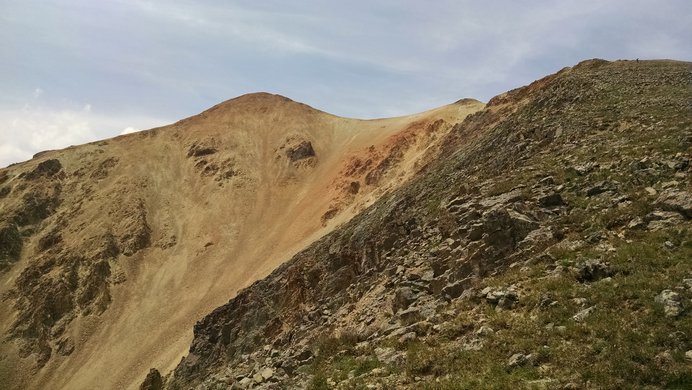 Atop Redcloud, I chatted with a guy who was working in the Colorado mountains for the summer. He talked with gusto, a mile a minute, and with the unmistakable easygoing air of a southerner. Turned out he was an Alabama native, and I just enjoyed the sound of a southern accent. I offered him some of the extra snacks I had that day and he declined; I attempted again more forcefully and was again denied. I knew I didn't need all that food and I really wanted someone to enjoy it. But Jackson was eating up the mountaintop instead. He had been hanging out there for quite a while and it was clear he was really enjoying it. I said my goodbye as we were heading opposite directions; he was done for the day and I was continuing on to Sunshine Peak, connected to Redcloud by another multicolored ridge.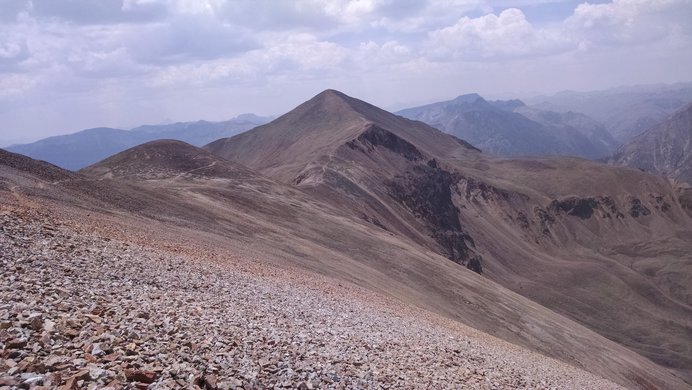 I felt sapped. I wasn't sure how to turn it around, so I kept pausing for refreshing breaks. I picked up my trekking poles for a minute and came to a realization: my arms were the ones complaining. I lashed the poles down to the outside of my pack to give my arms a break, and my sense of exhaustion abated. I had chosen to use the trekking poles to give my legs a break on this long day, but at this point my legs weren't the body parts that were complaining. The ridge walk was slow but steady and very enjoyable in the sun. I was on Sunshine before I knew it. I felt like I had reached my goal, but I still had to re-traverse to Redcloud, re-summit it, and get back down to the car. It felt like my work had only begun.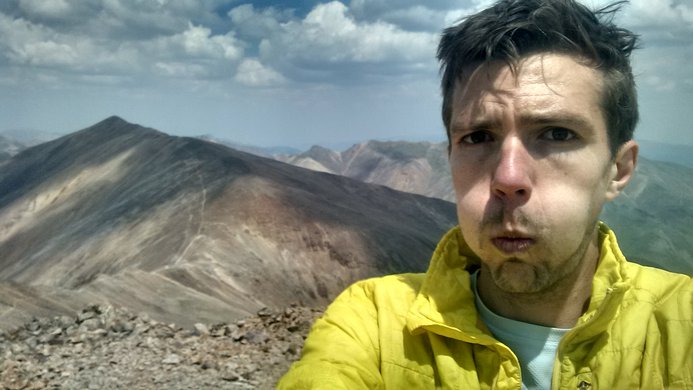 My mental motivation had left me after reaching the end of the three-course mountain meal. The return traverse was slow and focused. I could think only of laying down on Redcloud's summit. I had no plans past that. My mental radio, sensing the grinding nature of the uphill and the steady slow rhythm of my footsteps, served up an unexpected song: "…someday, someday, someday, I wanna, lay down, like God did, on Sunday…"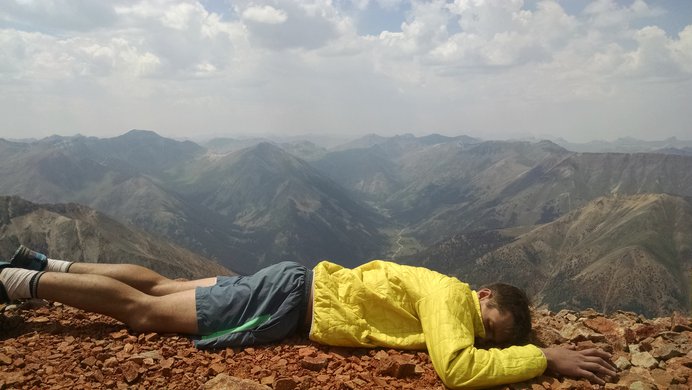 It makes absolutely no sense that I would project onto my hikes the narcissistic lyrics atop computer-generated beats of Kanye Omari West, but that's what arises. His music has become my 14er soundtrack and I no longer fight it in any way. In fact, I did lay down to listen to GHOST TOWN blast atop Redcloud. (Don't worry, I would never blast a song within earshot of another human). It felt so nice and warm that I had a hard time getting up. Like I mentioned before, I started training for big hikes at the beginning of this year, and I felt like this was the culmination of that work. I planned a roughly six-week intense hiking period, which I was coming to the end of. I had hiked seven 14ers in there, and I had finally started to figure out what hiking meant to me. I felt like my work was done for the summer, and any other adventures would be more relaxed, just icing on the cake. I felt DONE. And I did not want to hike back down to the car. But I got up.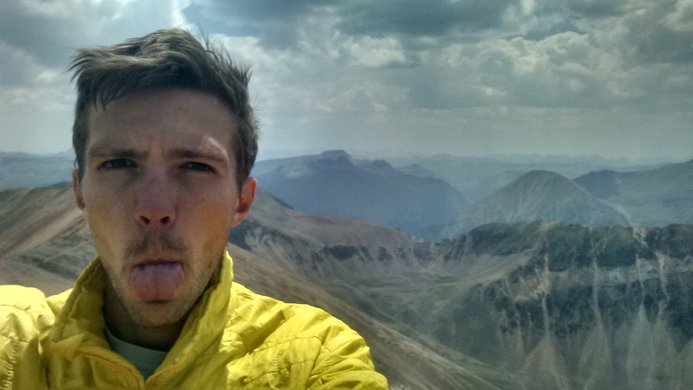 I returned, slipping and sliding, down the steep scree slopes. Down in the meadow again, I celebrated the end of my tough climbing and descending. I didn't realize a mental challenge still remained. The return trail wasn't unkind, but I was drained. Each downhill step made it a little harder on my brakes. My legs shuddered under the repetitive impact. I took periodic rests to eat and drink and cool off my legs, which had rejected the idea of stone step after stone step. I couldn't blame them, so I just kept snacking in a vain attempt to coax my body into service. The snacks turned out to be counterproductive. The cumulative sugar intake was too much and sent my stomach spiraling downward. Now I was taking breaks to give my stomach a few seconds to recover and to stop cramping. I ran down my eating inventory for the day: 1 pop tart, 5 Clif bars, 1 peanut butter and honey tortilla, and 2 candy bars. Reflecting on the itemized list made me feel sicker than I already did! In my attempt to keep my body nourished, I had been blind to the sugar burnout I was steering towards. I hiked slower and slower on the now-gentle trail. I reached a painful yet meditative state, and was able to hike through the quiet agony. Finally, FINALLY, I saw the parking lot emerge from the trees.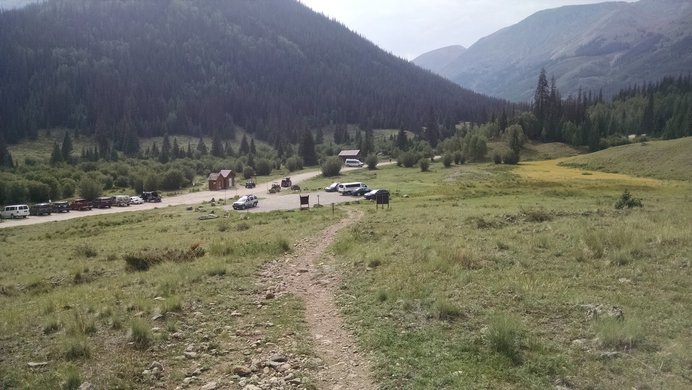 In a cruel twist, the trail dropped sharply at the end, allowing me to vividly experience the full exhaustion in my legs. I closed my eyes as I turned my key in the ignition – and the car mercifully started. I re-awakened and started the six-hour drive, my mind now resplendent with misguided visions of Taco Bell.