Currently sitting in St. Thomas' Church Hostel...
Well today in New York was more of the same, like the end of yesterday. I woke up as early as the sun would let me, at 4:30 AM. I knew by the time I started walking, I would at least be able to see. I still haven't tried night hiking, and I didn't plan on starting today. I had an easy six or so miles to Wildcat Shelter. Then I started to have more of these little up-and-down ridge climbs. As soon as I was losing hope, the ground flattened. I started to grin, cruising for a bit. Then the ridges came back. I wanted so badly to get into Vernon and to relax at the hostel with food from Burger King. Every time I slowed down, it was like I could see my destination zooming out. Like when a cartoon character looks down into a valley. I kept looking at my elevation profile, sure I must have misread it. Nope, clear as day, I saw a flat line, floating around 1200 feet. I would go up, go down. The trail was poorly blazed. I kept guessing which way to go, sometimes stopping to scream at a tree with the white blaze painted on it. "GIVE ME A HINT NEXT TIME AT LEAST!"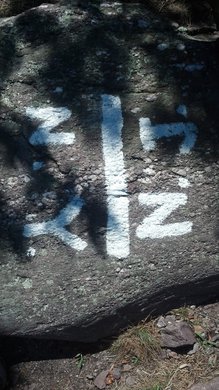 My mood went back to normal as I neared New Jersey. I climbed a ridge and stayed up high this time. The clear, cool weather had returned. I climbed up to Prospect Rock, the highest point in New York on the AT. I looked to my left, and my jaw unhinged. There was the skyline of New York City. The place I had my layover for my flight up to Maine. I had walked a plane flight's worth of trail! A smile crossed my lips, and I passed into New Jersey. A dog-walker lady brought her pack of dogs up the trail. As I was surrounded by friendly pooches, I couldn't help but laugh like an idiot. Who knows what this lady thought. I thanked her and walked off the ridge, this time for good. It was instantaneous: New Jersey was smooth and flat. I passed a nobo, asking him about the terrain ahead. "Aw, just like this. Perfect," he said. "Thank you," I whispered quietly. I rolled on over the flat hills, up an easy walk to Wawayanda Mountain. I started to get slowed down by day hikers asking me about my quest, but at this point I didn't mind. Almost into town!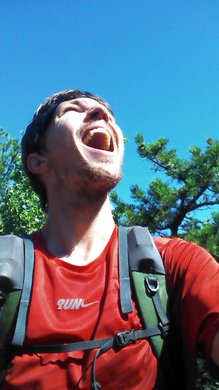 I got to the road and quickly got a hitch from a fella whose friend is hiking the AT. He knew right where I was going and dropped me off at the church. The setup here is really sweet. I have a cot, wifi, computer, TV with movies, shower, and laundry. For a modest donation and some chore work. What? Life is good tonight. After taking advantage of the shower and laundry right off the bat, I talked to fellow sobo Squints, who is also in for the night. Unfortunately, the Burger King was closed, so I walked to the A&P grocery store. Outside, between the road and the parking lot on a grassy area, I saw what I thought was a dog. Nope, it was a male black bear, followed by his wife and son. I only see wildlife in town. I had left my phone in the hostel to charge, so I had to satisfy myself with pointing excitedly at the undisturbed bear family as cars drove by to watch. The A&P had a salad bar and a hot food bar. I loaded up on both. Parents covered their children's eyes. Employees started to clock out. Never shop when you're hungry. I know you've heard it before, but when you have a cart full of grocery items to carry back to the hostel, it really rings true. I ate food as I called home, washing it down as I drank from a 2-liter bottle of Code Red Mountain Dew. We all have a monster inside of us; I just let mine out.
Nobo count: 25
Sobo count: 1